Inspirational Speaker International
Steven Bradbury's career as an Olympic speed skater was driven by determination and most importantly a will to succeed. With the same passion he showed on the ice, Steven has continued his success as an International inspirational speaker.
As an International inspirational speaker, his warm friendly nature, down to earth manner and use of humour is sure to help 'break the ice'. The Bradbury story is one of the true Aussie battler who overcomes much adversity to achieve the ultimate goal.
Steven has learned success strategies through experience in business and sport.  Like he has done for many others, as an International inspirational speaker, he is ready to deliver lasting results and a never give up attitude to your team.
   
Please click the button above to load the video
Click here to view Steve's Client List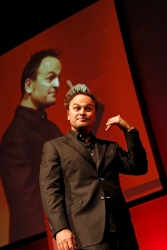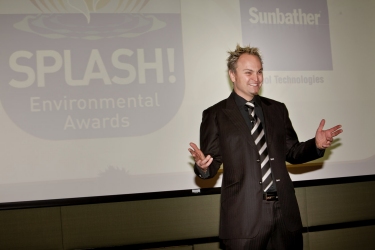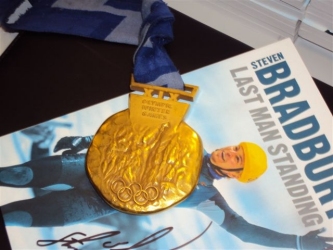 His international inspirational speaking presentation entitled 'Last Man Standing' can be tailored to specific client themes or objectives and includes:
Everyone will handle Steve's actual Olympic Gold Medal.
Great stories.
His father's influence (instilling a work ethic and lessons learned).
Business success through his speed skate making company. Click here for more information.
The audience participation competition (photo sequence below). The winner gets a signed copy of Steven's book – Last Man Standing. Always a highlight.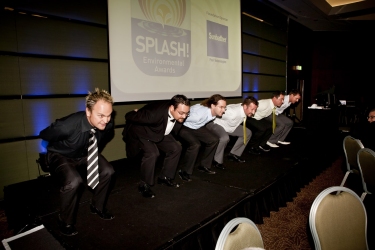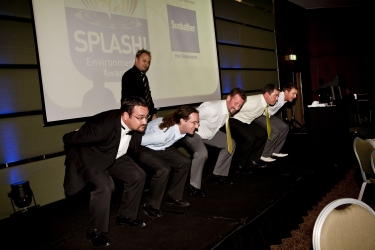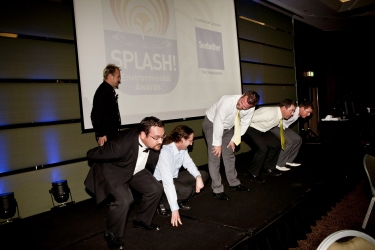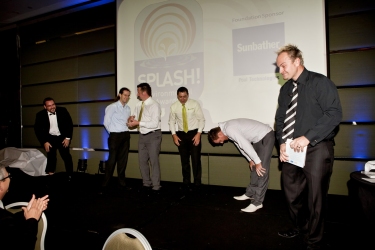 A 3 part DVD inc.:

Introduction DVD.
Video footage of the race crash where Steven lost 4 litres of blood and got 111 stitches in his leg (note – there are no close ups of the bloody scene). Click Here to watch the crash on Video.
Reliving that Olympic final on DVD through Steven's eyes. This always brings the house down !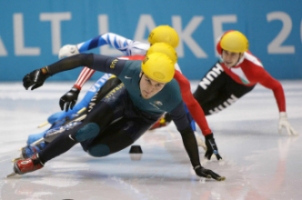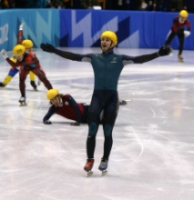 Just like in sports business is about showing up everyday and giving it your best. When your moment to shine comes, will you be in position, and prepared "to DO A BRADBURY"
As well as being entertained and inspired your audience will be left with a lasting impression that much of the prize is in the journey and that success takes PASSION, PERSISTENCE and TEAMWORK.
Steven's presentation can also include the LAST MAN STANDING AUCTION. Click here for more information.
Seven Bradbury is one of Australia's most 'in demand' international inspirational Speakers.
Steve's inspirational presentation messages also include:
Sport strategies, business success
Values and principles – sustaining a culture of success
Universal lessons of sport – striving towards excellence
Adversity fuels the pursuit
Believing in the preparation
Defining success and valuing the process
The story leading up to the Gold Medal win is what makes Steven's international inspirational presentation memorable and unique. His story touches a chord with people from all walks of life and is a prime example to all that if you "stick it out", you too can be the last man standing.
Testimonials:
It was great listening to Steve's presentation. Probably the best I have seen in 40 years! PROFESSOR RON BEWLEY – CHIEF INVESTMENT OFFICER – COMMONWEALTH BANK
Steven's presentation was great. It was delivered well and contained the right amount of humor and business references to suit the audience. MIKE BUZZARD – BHP BILLITON
We were looking for a speaker who could engage a group of people who had encountered the most difficult period in the their working life. Steve Bradbury not only engaged the group, but was able to communicate a number of key messages that lifted the feel of the entire conference. His messages were extremely strong and could be easily assimilated to the audiences personal situation. The feedback from Steve's presentation has been overwhelming, we would recommend Steve to any business who is looking to re-energize and engage. PETER ORNSBY – NATIONAL MANGER DISTRIBUTION – RETIREINVEST
Steven Bradbury was an exceptional speaker. – HP has made an excellent choice with Steven as a speaker. – I have been to several now and Steven is the best speaker I've seen. – Initial reaction was why is Steven here – once he started talking it became clear. His life experiences were very motivating and just what this forum needed. – Steven's session was very inspiring and helped convey the spirit till the end of the day. Comments from the audience from HP (Hewlett – Packard)
Mega Partnering is the world's # 1 wealth networking conference with people like Steve Wozniak, Mayor Rudy Giuliani, Gene Simmons, Trump, Bret Michaels and many more of the world's top speakers andentrepreneurs have attended and spoken. Steven spoke at Mega Partnering V in Dallas, Texas and was rated one of the top presenters of all time. He was powerful, riveting, entertaining and when he took his gold medal out… thecrowd went wild. There was a 2 hour wait just to get a photo with Steven. If you want to add WOW to your event, impress your clients or motivate your team, there is only one name i can think of… STEVE BRADBURY.
JT Foxx – Founder of Mega Partnering -Syndicated Radio Personality – Serial Entrepreneur
Steven Bradbury was guest speaker at our Global Sales Conference Dinner in Los Angeles The feedback was very good from everyone.  Steve™s presentation was highly entertaining, he has a great story to tell.  My team left the evening motivated and ready to achieve our company goals for the coming year.
ANDREW GEE " Managing Director " Macquarie Equipment Finance
Click Here for more testimonials
Click here for photos and text for conference programs and event invitations.
Click here for AV requirements,  Introduction, Audience Participation, Split Presentation Suggestions and Surprise Speaker Notes.
If you are after an inspirational speaker in Australia sure to impress your audience, Steve makes a wonderful inspirational speaker.  Steven speaks all over Australia and also speaks internationally.  Contact Steven today to book for your next event.
Inspirational Speaker, Meet The Speaker, Last Man Standing – Channel9