Event Host Melbourne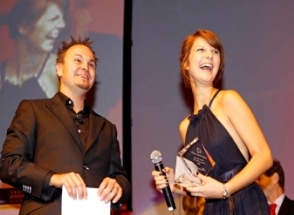 Steven enjoys the role of Event Host in Melbourne. His vast experience onstage allows him to be relaxed, informative and entertaining.  Steven is one of Australia's most well known Olympic Champions and adds the celebrity angle to any event in Melbourne.
An Event Host in Melbourne needs to do more than simply introduce the next speaker.  The Event Host needs to engage the audience, be able to work a room, feed off the energy or create energy in Melbourne.  The Event Host should also have the skills to convey the clients intended message to the audience in Melbourne.  Steven has been honing his skills for 8 years and is keen to do more.
   

Please click the button above to load the video
Click here to view Steve's Client List

The role of Event Host in Melbourne requires preparation and Steven always works with his clients prior to the event to ensure no detail has been overlooked.
Combining Steven as both Event Host and Motivational Speaker or Entertainer at the same event is becoming popular in Melbourne.  This dual role allows you to save some of your event budget for something else.
Testimonials:
Steve,
It was great to meet and have the opportunity to work with you on the roadshow. Aside from the fact that you're professional and very good as an MC, you are also an absolute pleasure to work with – kind, respectful and engaging. It really felt like you were an extension of our team which is important when you're on the road for four weeks!
Marijana Simunovic  –  Producer  "  Australian Business Theatre
It is without reservation that I provide this endorsement for Steven Bradbury.
AMP used Steven as MC at our financial planning conferences held in the key capital cities around Australia.
Steven, as the MC, made a major contribution to the success of all five events.  His MC style appealed strongly to the audience and his ability to relate some of his life experiences to the messages on the day were first class.
Steven was also keynote speaker at our National conference in 2008.  Bringing him back as MC for our state conferences in 2011 was a big success and I would highly recommend him as both MC and motivational speaker.  He has broad appeal for business and private functions or conferences.
Steve Helmich " Director " AMP Financial Planning and Services
Dear Steven,
On behalf of the Sunshine Coast Council, I would like to extend a thank you and congratulations to you for your services as MC at our Australia Day Awards 2011.
There has been nothing but praise and thanks from all who attended, especially regarding your humour and relaxed style behind the microphone.  We also appreciated your preparedness to mix with the invited guests after the event.
Janine Symonds " Senior Events Coordinator " Sunshine Coast Council
Thank you again for entertaining our guests and for being our MC.  We have had some fantastic feedback and we will definately keep you in mind for further functions.
Natasha Lewis – Senior Events Officer – Community Partnerships – Ergon Energy
Click Here for more MC Testimonials
Click here for photos and text for conference programs and event invitations.
Click here for AV requirements,  Introduction, Audience Participation, Split Presentation Suggestions and Surprise Speaker Notes
Steven makes a great Master of Ceremonies (MC), conference facilitator, event host and conference MC in Melbourne.  Book Steven for your next speaking event in Melbourne.