Event Entertainer Brisbane
Steven Bradbury has become one of Australia's best Event Entertainers in Brisbane.  He is now getting regular bookings in Brisbane as a comedian with a celebrity edge.  After fine tuning his skills and working with infamous comedian Fred Lang, Steven's timing and pausing is spot on and his childhood, fatherhood and post Olympic stories are hilarious. Being a great event entertainer is not easy.  You need to be adaptable, be part comedian, part entertainer, part motivator and often be a drawcard to help put bums on seats in Brisbane.  Over the last 10 years Steven has spoken to accountants, plumbers, school kids, the wallabies, CEO's, council workers, bankers, olympians, fashion designers and politicians.  Steven is ready for any audience.
    

Please click the button above to load the video
Click here to view Steve's Client List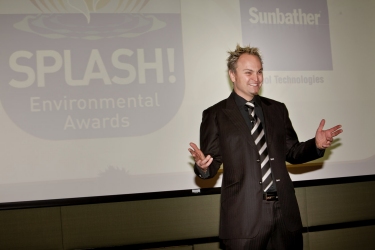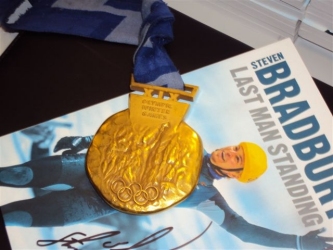 Steven's thirty minute event entertainer presentation in Brisbane includes:
Everyone will handle Steve's actual Olympic Gold Medal.
Great stories about meeting Richard Branson, Russell Crowe and Bill Clinton.
The audience participation competition (photo sequence below).  The winner gets a signed copy of Steven's book – Last Man Standing.  Always a highlight.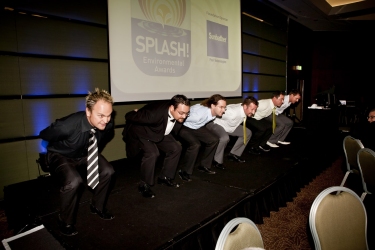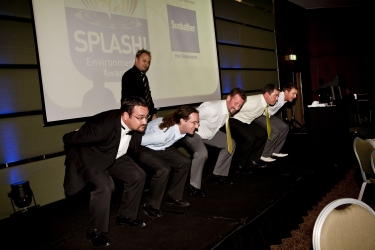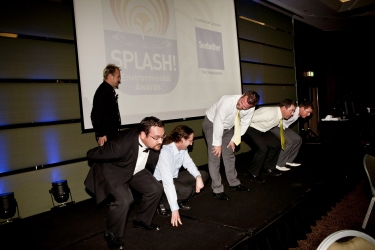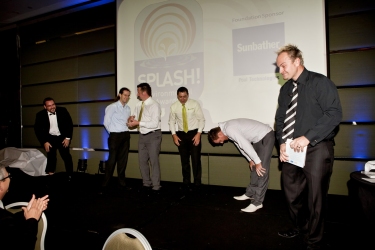 Reliving Steve's gold medal on DVD through his eyes.  Brings the house down !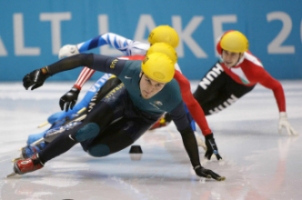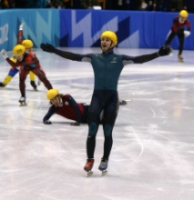 Steven has had people tell him that his Gold Medal win was the most Australian thing they have ever seen and the term 'Doing a Bradbury' is now in the Australian slang dictionary.
If you are looking for an event entertainer for a Corporate Function, Xmas Party, Golf Day Lunch, Sportsman's Night, Charity Event or other similar event in Brisbane, Steven Bradbury could be your answer.
Testimonials:
"Steve was genuinely entertaining. He provided an extremely amusing, yet relevant piece in his summation that left the audience both on the edge of their seat and in throes of laughter. He fully deserved the thunderous applause "  IGA AUSTRALIA
Steven was amazing!  His ability to entertain and tell a brilliant story was fantastic. Everyone had a great night. On top of the great entertainment, Steve is also a great guy. KURT KAVANACH – ALSPEC
Steven, I just wanted to express the appreciation of the Carbine Club of Papua New Guinea on your presentation at our Sportsmen's lunch last Friday. The feedback received from those in attendance was that it was one of our best lunches and that your presentation was first class. Your talk was inspirational, humorous and extremely entertaining. We have held three lunches per year for a long time and Steven was the first to receive a standing ovation from the audience. Ken Dunn – President – Carbine Club of Papua New Guinea
Steven was fantastic ! A very inspirational and funny speaker. In my opinion the best speaker I have ever seen. MARK GIBSON – BLACKTOWN CITY COUNCIL
Click Here for more testimonials
Click here for photos and text for conference programs and event invitations.
Click here for AV requirements,  Introduction, Audience Participation, Split Presentation Suggestions and Surprise Speaker Notes.
Steven makes an excellent Event Entertainer.  He is exceptionally funny and offers comedy with a celebrity edge.  Part comedian, part motivator and part entertainer,  Steven will make a wonderful addition to your next event in Brisbane as an Event Entertainer .
Event Entertainer,  Meet The Speaker, Last Man Standing – Channel9